There are high definition videos on this page that play only on laptops, desktops and some tablets. We love smartphones too, but Romanian landscapes are too amazing to fit into a small screen.
Romania
Get to know Romania in few minutes
Romania Facts
Member state of the  European Union since 2007 and North Atlantic Treaty Organization (NATO) since 2003.
Location: Eastern Europe
Time Zone: Seven hours ahead of U.S. Eastern Time (GMT + 2)
Area: 92,043 sq. miles (238,391 sq. km) – a little larger than the state of Minnesota
Flag of Romania: Three vertical stripes: red, yellow and blue
Population: 19,942,000 (March 2014)
Capital: Bucharest (1,883,400)
Main Ethnic Groups: Romanian 84%, Hungarian 6.1%, Gipsy 3.1%,
German 0.2%, Ukrainian 0.2%
Climate: Temperate, four distinct seasons, similar to northeastern USA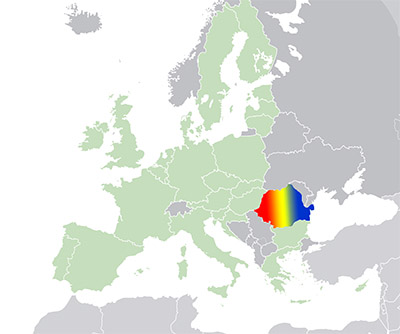 Famous Romanians
Some of the most prominent Romanians
George Emil Palade
Cell biologist.
Described as "the most influential cell biologist ever"; in 1974 he was awarded the Nobel Prize in Physiology and Medicine. The prize was granted for his innovations in electron microscopy and cell fractionation which together laid the foundations of modern molecular cell biology, the most notable discovery being the ribosomes of the endoplasmic reticulum.
Source: Wikipedia.
A full list of famous Romanian peoples can be find here and here.
Discover Romania
Spectacular Romanian Places
Carpathians Mountains, Black Sea, Danube Delta, rivers, lakes, caverns, all makes Romania a breathtaking place.
Cultural and Spiritual Romania
The Church has always been the life center of the Romanian nation and as such the entire Romanian culture has developed around it.
"Eternity was born in the village" – Lucian Blaga
The countryside is the heart and soul of Romania, where peasant culture remains a strong force and medieval life prevails, as it does nowhere else in Europe.